Blogs
Fast, actionable insights require solid hybrid data management strategy
September 17, 2018
Today's digital enterprise needs fast and actionable insights. 
This is an increasingly tall order because data resides in higher volumes, greater variety and more locations throughout the organization, and a rising number of business users demand that data. Coupled with the choice and complexity of deployments (on premises, public and multicloud), this makes data management and integration extremely challenging. To succeed, enterprises should adopt a hybrid data approach to all things data and analytics.
The IBM Hybrid Data Management strategy is laser-focused on helping clients unlock their most valuable resource they have in their organization:data. Data is growing at a rapid pace, fueled by new technologies such as artificial intelligence (AI), Internet of Things (IoT) and mobile. While this data is hugely valuable, its value can only emerge if organizations can make insight-driven decisions more effectively and efficiently at the speed of business. In this new digital era, the companies that win will do so through building and exploiting new business models and opportunities, aggregating disparate data across the organization and making analytics work for them.
This has dramatically shaped the IBM viewpoint and made us think differently about how we architect and make data simple and accessible to all. However, for our customers to modernize, gain a competitive edge and take the helm as the leader in their respective markets, there are significant challenges that they need to surmount.
One critical hurdle many must overcome is the lack of their own comprehensive strategy for hybrid data management. For too long, data has been held captive within systems of record. These discrete data silos segment and further isolate pockets of knowledge within the organization, and the result is a splintered view of a business. Silos are costly and lead to issues with data duplication, data quality, data governance and security, in addition to slowing down the organization's ability to derive value from the data.
The IBM hybrid data management strategy can help overcome this challenge because we reject the notion that access to data is a trade off. Instead, we believe that the use of data should be democratized, whether it is structured, unstructured or semi-structured and no matter where it happens to be located. It should be able to sit on premises across lines of businesses, IT or operations, sit on a public or private cloud, span multiple vendor solutions, or reside in data lakes built using open source Hadoop.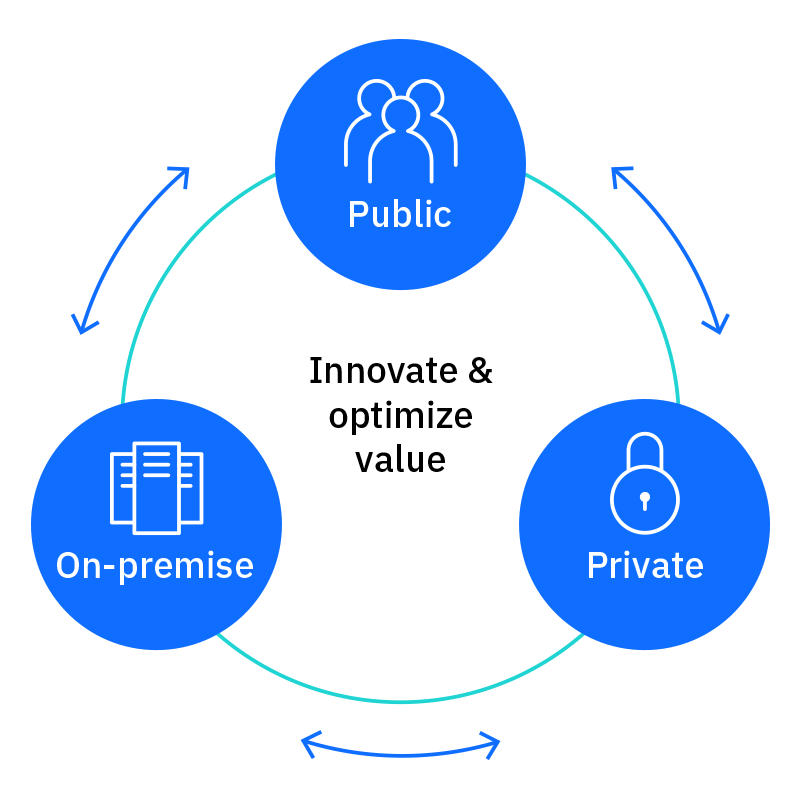 To accomplish this, we anchor our strategy on data sets and tools that are infused with machine learning and combine the best of traditional relational database and warehousing alongside innovative new technologies from open source and NoSQL. That means the hybrid advantages extend beyond combining on-premises and cloud deployments to bring together the full range of solutions needed to extract the most value out of data.
The Common SQL Engine resides at the heart of our ability to execute on this strategic imperative. It enables us to deliver a consistent hybrid analytics offering across data types and locations, providing complete flexibility and application portability across both. From an application perspective, by using the same underlying analytics engine, a user gains compatibility across all offerings using that engine. Applications that run against one of these Common-SQL-Engine-based offerings will run against all offerings with the Common SQL Engine.
Our Common SQL Engine also comes with built in data virtualization — at no extra cost — that delivers superior integration for structured and Hadoop data sources. A single, consistent interface will also ensure users have the same experience regardless of which underlying offering is being used, increasing operational management and maintenance capabilities. Moreover, this compatibility extends beyond data repositories and analytics applications. Security, governance, management, data movement and other applications are included, too.
In a nutshell, the Common SQL Engine promotes choice for customers creating a hybrid data environment. Data can be stored with IBM Db2 Warehouse on Cloud, using the IBM Integrated Analytics System appliance on premises, in a Hadoop based data lake, or using a combination of any of these options while maintaining complete application portability, flexibility and a consistent experience. From an analytics application standpoint, this essentially translates to being able to build on a framework that can provide the capability to "write once and run anywhere" with consistent and predictable results.
If you're ready to start rapidly accelerating your digital transformation journey by organizing data, stripping away silos and ensuring a completely contextualized view of the data be it on-premises, public or in a private cloud, take a moment to look into the Common SQL Engine.
And stay tuned for my next post, in which I will discuss some key features and benefits of the IBM Integrated Analytics System and the IBM Db2 Warehouse on Cloud that use the Common SQL Engine.
Got Question? Ask our Experts!
Schedule a free one-on-one consultation with our experienced data professionals and distinguished engineers who have helped thousands of clients build winning data management strategies.